With help of  EEG (scalp)sensors, one can measure a brain response to a stimulus- often auditory.  Often the brain reaction diminishes with a repeat stimulus – called sensory gating. If one were hypervigilant, you would expect the brain response to not get less – one study says no, another, maybe better done, says yes
Filtering out repetitive auditory stimuli in fibromyalgia: A study of P50 sensory gating
M.T. Carrillo-de-la-Peña1, Y. Triñanes1, A. González-Villar1, C. Gómez-Perretta2, L. García-Larrea3
Eur J Pain 19 (2015) 576–584
http://www.ncbi.nlm.nih.gov/pubmed/25430500
and Commentary:
General hypervigilance in fibromyalgia: One swallow does not make a summer.
Van Ryckeghem D, Crombez G.
Eur J Pain. 2015 Apr;19(4):447-8no abstract
Called P50 sensory gating. Wikipedia calls it: "In electroencephalography, the P50 is an event related potential occurring approximately 50 ms after the presentation of a stimulus, usually an auditory click.The P50 response is used to measure sensory gating, or the reduced neurophysiological response to redundant stimuli."
http://en.wikipedia.org/wiki/P50_%28neuroscience%29
A reduced response would suggest an adaption where one pays less attention to sensory input.
If one were hypervigilant, one would not expect this adaption to occur.
Study found no difference from control.
Commentary opinions that this is not enough to determine whether hypervigilance does not exist – ie "One swallow does not make a summer".
There seems some wisdom in that as shortly after this was published another article on brain reactions was published:
Pain. 2015 Apr;156(4):666-74. doi: 10.1097/j.pain.0000000000000096.
Disinhibition of the primary somatosensory cortex in patients with fibromyalgia.
Lim M(1), Roosink M, Kim JS, Kim DJ, Kim HW, Lee EB, Kim HA, Chung CK.
http://www.ncbi.nlm.nih.gov/pubmed/25630027
posits that "Altered excitability of sensorimotor cortex has been proposed as an underlying pathology of FM.."
paired median nerve stimulation done at wrists and effects recorded at somatosensory cortex
"Paired-pulse suppression (PPS) of the second response was quantified as the ratio of the amplitudes of the second to the first response. Patients with FM displayed significantly higher PPS ratio for the N20m-P35m in both hemispheres, indicating reduced intracortical inhibition in the S1"
Conclusion – "intracortical inhibition in the S1 is compromised bilaterally in patients with FM, and the extent of disinhibition can be closely associated with increased clinical pain. Our results suggest that changes of intracortical inhibition of the S1 may contribute to the pathophysiology of FM pain."
What is emerging, is that FM can be any number of subtypes – this is my first attempt at displaying some of them (differing sizes is not intentional):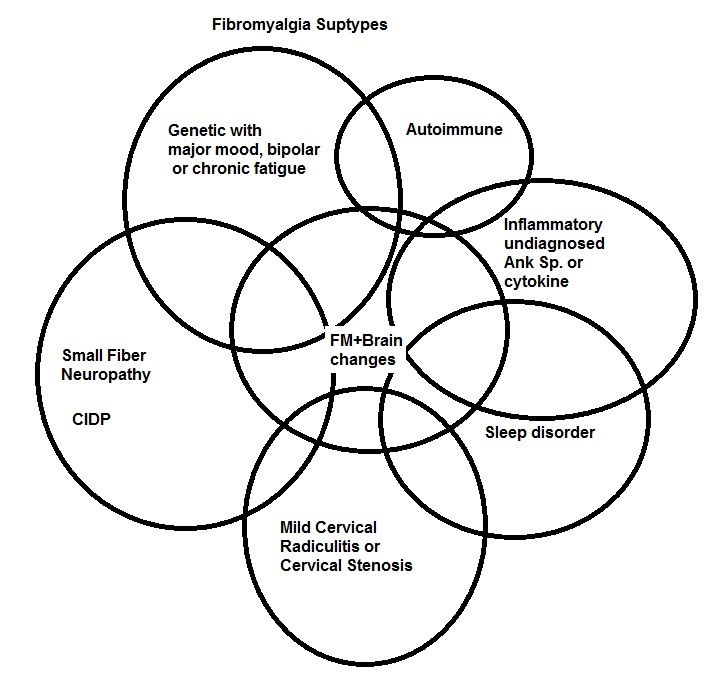 Which ones have I missed? Stress reactions, child abuse, and PTSD could be added.