On methotrexate up to 25 mg/week orally, 53% had over a VAS drop of  2.0/10 while only 24% had in control group.
Ann Rheum Dis. 2014 Mar 27.  [Epub ahead of print]
Methotrexate in the treatment of symptomatic knee osteoarthritis: randomised placebo-controlled trial.
Abou-Raya A et al
persistent knee pain, synovitis and  moderate radiological disease
72 cases in active and 72 in control group
excluded  creatinine clearance <75 mL/min, AST/ALT over twice normal, active or recent hepatitis or cirrhosis, patients with serious cardiac or respiratory diseases
methotrexate started at 10 mg weekly and increased to 25 mg after 3 weeks. Folic acid 5 md eod.
28 wk study
in methotrexate group, mean drop of −2.6 while in control -1.5/10
side effects: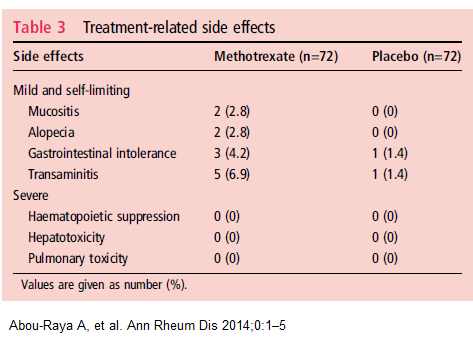 Comment – bigger dose than I am used to using. A 2.6/10 vas drop is clinically important.
Patients require CBC and liver function test monitoring.