Recent blognote was written showing significant decreases in acute shingles pain with Vitamin C:
Helping Prevent and Treat Post Shingles Pain / Post Herpetic Neuralgia – Can It Be as Simple as Vitamin C to Help?  Now two further cases are published showing rapid decreases in pain with IV Vitamin C.
Schencking M, Sandholzer H, Frese T.
Intravenous administration of vitamin C in the treatment of herpetic neuralgia— Two case reports.
Med Sci Monit. 2010;16(5): CS58–CS61.
15 gm Vitamin C in 250 ml saline
excluded Lack of glucose-6-phosphate-dehydrogenase, oxalate urolithiasis, kidney insufficiency, iron storage disease, and and known reactions
Concluded: "The rapid therapeutic benefits in these vitamin C-treated patients were impressive."
Schenking et al are now conducting a large-scale clinical study based on these findings
case 1 – Severe facial case – 4 IV's  of 15 g of vitamin C
Case 2 –  Severe 10/10 chest case – 6 IV's of 15 g of vitamin C (repeated every second day).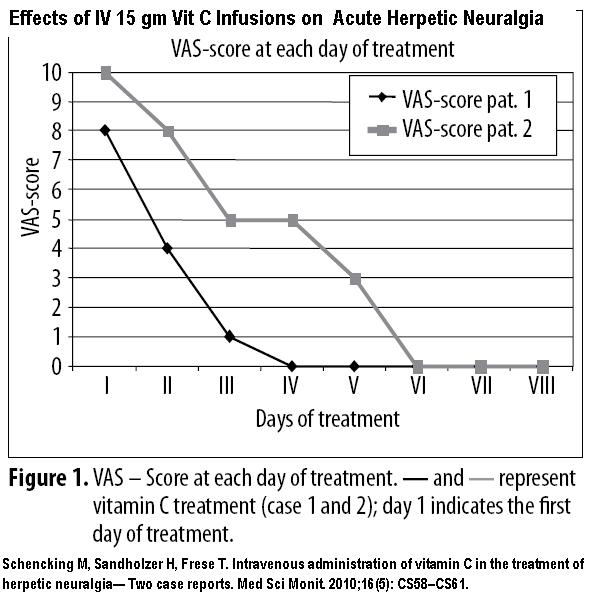 Additionally in 2011, there is a case finding quick relief with IV Vitamin C:
 Korean J Pain. 2011 Jun;24(2):108-11. Epub 2011 Jun
Administration of Vitamin C in a Patient with Herpes Zoster – A case report -.
Byun SH, Jeon Y.  free article here
they were using 4 gm iv and one infusion reduced pain from 7 to 2/10
Comment – In our severely affected frail elderly cases, this treatment has to become accessible. I would like to see this done outside of the hospital to avoid the spread of shingles…I'm going to check with my hospital re: availability of IV and maybe other physicians should do so as well ( though with Hyperalimentation this should be easily available).
any comments? nike air max 1 nike air max 1