New Acceptance and Commitment therapy – 8 sessions of 2.5 hours reduced pain by 20% in 1/2 cases but only 50% in 1/48 cases. Fairly maximal drug therapies with pregabalin +/- Duloxetine alone was not great
Pain. 2013 in press
Effectiveness of Group Acceptance and Commitment Therapy for Fibromyalgia: A
6-month Randomised Controlled Trial (EFFIGACT study).
Luciano JV(1), Guallar JA(2), Aguado J(3), López-Del-Hoyo Y(4), Olivan B(4),
Magallón R(5), Alda M(6), Serrano-Blanco A(7), Gili M(8), Garcia-Campayo J(6).
http://www.ncbi.nlm.nih.gov/pubmed/24378880
wait list
Pregabalin 300 – 600 mg/da plus duloxeine 60-120 mg/day if depressed
Group ACT therapy – eight 2.5 hour sessions.
Results: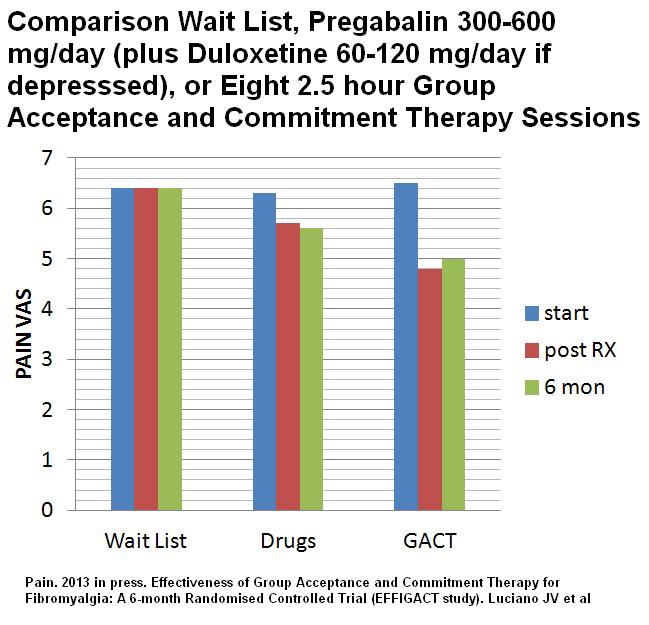 Comment –  Drug therapy has been hyped up as being great but it is mediocre at best. Group ACT therapy shows some promise but still isn't great and where are you going to get eight 2.5 hour sessions here?… (BTW who can tolerate 2.5 hour sessions? – when I give talks the max is 40 minutes it seems….). I goes without saying that combos of therapy will be needed to get any significant response…
Neglected are the vast array of peripheral trigger areas that need working on. Most common areas include:
1) definite paresthesias and neuropathic pain level that could be more likely small fibre neuropathy from Chronic Inflammatory Demyelinating Polyneuropathy (CIDP). Steroid pulses (dexamethasome 4 mg 10 tab/day x 4 days) and IV immunoglobulins help.
2) Obvious inflammatory picture – chronic back pain, AM stiffness, buttock pains, worse after rest,  CRP >3 – trial steroid pulse. Find cases of mild celiac with sacroiliitis (2/3 celiacs have) and microscopic colitis (10X more common in celiacs) masquerading as diarrhea based Irritable bowel. I now use flurbiprofen with some benefit as well.
3) C4/5 facet and associated shoulder tip pains
4) Post traumatic Thoracic outlet where can't hold arms up in "stick-em up "position without hands going numb
5) Disordered sleep version sleep apnea aggravated by restless leg/periodic limb movements.
6) Quadratus lumborum spasm with associated thoracolumbar syndrome, iliac crest cluneal nerve tenderness, gluteal spasm, and piriformis syndrome – dealing with any one of thoses issues gives significant relief.
7) neck, cluneal, back, leg skin nerve hypersensitivity helped by simple D5W injections every 2 cm over top these nerves.
7) and so on – any mild mechanical issue will be magnified ten fold by FM and also magifiy the FM.
Work on these cases takes 1-3 times a week effort over months to achieve significant remission. Smoking, stress,  low testosterone and vitamin B12 and D need attention… Good luck ggdb ggdb