Recently a series of patients with Prolactinomas (a pituitary prolactin – secreting tumor in brain) was published. They found they often presented with either one sided migraines (often orbital) or SUNCT (short-lasting unilateral neuralgiform headache attacks with conjunctival injection and tearing). They felt prolactin levels should be done in those with with trigeminal autonomic cephalalgias like SUNCT. Cabergoline, a dopamine agonist, worked well.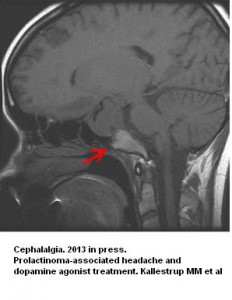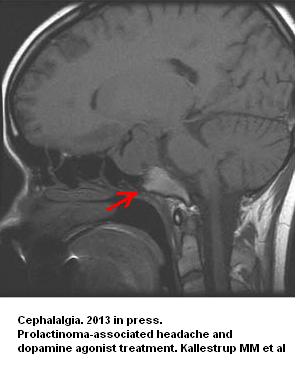 Cephalalgia. 2013 Dec 18. [Epub ahead of print]
Prolactinoma-associated headache and dopamine agonist treatment.
Kallestrup MM, Kasch H, Osterby T, Nielsen E, Jensen TS, Jørgensen JO.
http://www.ncbi.nlm.nih.gov/pubmed/24351278
12 cases average 40 years old – both men and women
all unilateral headaches
all hyperprolactinemic with levels ranging between 1.44 and 109.70 IU/l normal range: 0.09—0.58 IU/l)
3 presented with SUNCT, 4 with migraine, one with cluster headaches  and one with mixed picture (2 cases missing data)
less than half missed work due to headaches
all received cabergoline except one who got quinagolide.
Treatment worked well.
Comment – SUNCT causes short jabbing one sided headaches that are not as severe as cluster. They occur often when they flare. A simple answer like this is appreciated… air max pas cher air max pas cher