A recent study showed diffuse muscle trigger knots about the shoulder in impingement syndrome, highlighting the fact there is considerable peripheral and central sensitization.  Measures dealing with this disease must deal with these issues.
Exp Brain Res. 2010 May;202(4):915-25. Epub 2010 Feb 26.
Muscle trigger points and pressure pain hyperalgesia in the shoulder muscles in patients with unilateral shoulder impingement: a blinded, controlled study.
Hidalgo-Lozano A, Fernández-de-las-Peñas C, Alonso-Blanco C, Ge HY, Arendt-Nielsen L, Arroyo-Morales M.
Testing For Rotator Cuff
Rotator cuff diagnosed by positive:

Hawkins test – "patient reports pain when the arm is flexed at 90° and passively positioned in internal rotation"
+

Neer test – pain during passive arm elevation
SHOULDER GIRDLE TRIGGERS
Various trigger points were being examined – notably missing was the deltoid – includes very front and front, very back, and often deep upper middle. Some of these are so tender they take on neuropathic quality and only seem to unspasm with semi-neurolytic lidocaine ( 5% lidocaine 7.5% dextrose max 2 cc – can need repeated attempts. Triggers they tested for this article include: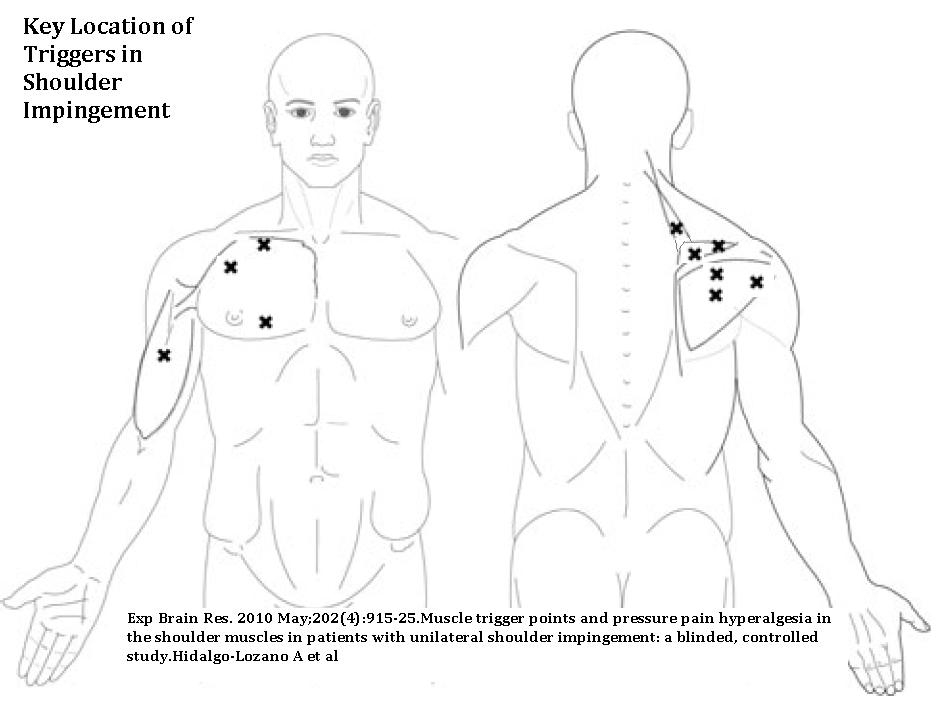 above – biceps, supraspinatus, infraspinatus, pectoralis, levator scapula. The supraspinatus trigger they preferred to test was the lateral one – one I have neglected to test and maybe this is why I don't find supraspinatus triggers much…
and subscapularis below: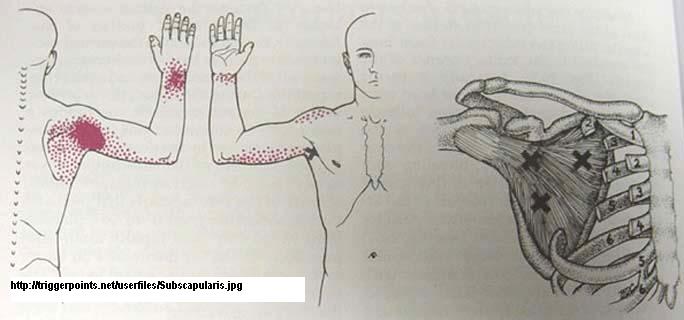 Anterior deltoid showing very anterior (what pic calls clavicular portion) and a more lateral portion.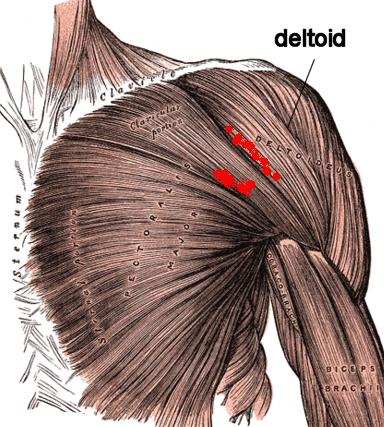 Between these two bundles can occur a very neuropathic tender area. I suspect there is a nerve which courses with the blood vessel circled below and it maybe become involved in a form of micro-entrapment -making  the muscle neuropathically spastic and tender there.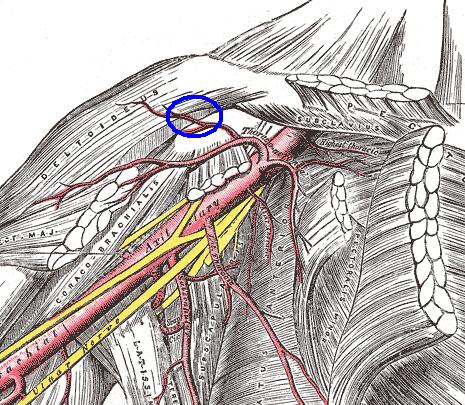 And the posterior deltoid and DEEP mid deltoid view: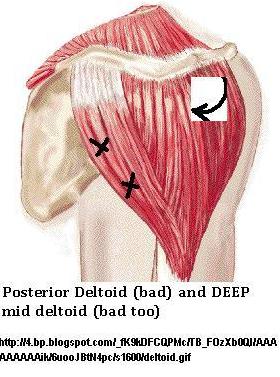 I will tangentially push on deltoid fibers to try and stretch (and tear adhesional elements) for 5 min+ and then attempt to knuckle muscle free of spasm. Gasping deltoid and shaking it back and forth can loosen it up over time as well.
RESULTS – significantly more triggers and tenderness thresholds were found in shoulder impingement. They suspect this signifies both elements of central and peripheral sensitization
Issues:
Central Sensitization – The brain is forever changed in chronic pain and is set to specifically tune to the pain. The pain gets linked to emotional elements and so, not only do you hurt, you emotionally suffer.
Peripheral Sensitization – irritating inflammatory elements (alas, more cytokine so anti- inflamm drugs do not work), nerve hypersensitivity, and spastic muscles that create local ischemia make the actual tissues tender beyond expectation as they develop a life of their own.
Experimental approach:
I was impressed by the effectiveness of suprascaular nerve blocks on shoulder pain:
It worked in degenerative shoulder and RA shoulder cases:

Suprascapular nerve block (using bupivacaine and methylprednisolone acetate) in chronic shoulder pain.
E M Shanahan et al.
Ann Rheum Dis 2003;62:400-406   free article here
61% had complete tears supraspinatus as well so may also reflect treatment of this condition
1/2 Rheumatoid arthritis cases 10 ml of 0.5% bupivacaine and 40 mg of methylprednisolone
Used suprascapular Notch technique:
In rotator cuff disease:

Ben-Aviv D, Boparai N, Wong D, Luu B, Kim E, Mitra R.
The efficacy of suprascapular nerve block in treating shoulder pain.
Arch Phys Med Rehabil 2007; 88: E67 no abstract
8 cases of rotator cuff tendonitis
5 mL of 1% lidocaine in the region near the spine of the scapula surrounding the  suprascapular nerve"
7 of 8 (88%)  patients experienced greater than 50% pain relief. (p<0.01   by t test for VAS pain change)
It works for frozen shoulder:
Suprascapular nerve block for the treatment of frozen shoulder in primary care: a randomized trial
DAVID S JONES, C CHATTOPADHYAY
British Journal of General Practice, 1999, 49, 39-41  free article here

I have discussed how repeated suprascapular blocks decrease pain in shoulder impingement:
Resistant Shoulder Tendonitis Treatments
I was also very impressed with results of destructive pulsed radiofrequency to nerve: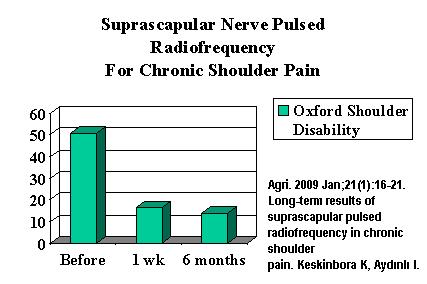 What I have been using in severe cases is a semi-neurolytic agent – 5% lidocaine, 7.5% dextrose (max 2 mls) – it will numb the nerve for 3 days (more usual first shot) – 3 weeks. I have been using a more lateral  suprascapular injection technique described here:
Post-Chest Surgery (Post – Thoracotomy) Shoulder Pain Cure But Only in Those With Sore Shoulder Muscles – Suprascapular Block and New Way to Do Block
This seems to relax the subscapularis muscle as well. It, however, does not help the pain in levator scapular, first rib-scalene complex, and the anterior deltoid.
A recent study found both pulsed radiofrequency and intra-articular injedction helpful in painful shoulder. The steroids were better especially in the first few weeks.
Intra-articular Corticosteroid Injections Versus Pulsed Radiofrequency in Painful  Shoulder: A Prospective, Randomized, Single-blinded Study
Eyigor, Can MD
Clinical Journal of Pain:  June 2010 – Volume 26 – Issue 5 – pp 386-392   abstract here
In severe cases , I have been combining intraarticular or subdeltoid bursal injections of steroid with semi-neurolytic injections of suprascapular nerve with rather nice relief though do not have stats on length of relief.
However, there is a recent article which suggests that steroids in addition to Pulsed radiofrequency did not improve the relief which lasted more than 3 months in most cases:
Effect of pulsed radiofrequency therapy on the suprascapular nerve in shoulder pain of various aetiology
T. Gabrhelik, P. Michalek, M. Adamus, M. Mikova and L. Dolecek
Irish Journal of Medical Science Volume 179, Number 3, 369-373  abstract here
I work those muscles that are "spastic" and seem to be getting some results on the shoulder impingement issue, depending on how much the neck is a player in initiating the pain.
Comment – Shutting down the pain site nerve temporarily helps reset the pain centrally and decreases the problems peripherally, giving local treatments a chance – it is not a cure-all though.
Any other approaches? nike air max 2017 nike air max 2017