Moderate pain over the upper lateral end of Thyroid cartilage in ligament between that point to hyoid bone  has recently been written up.  It is an obscure syndrome and I have not found anything on it before. The topic was written up in a journal my university no longer gets so I had to special order it – something I don't usually do. The very morning I received the article, a patient comes in depressed because of troublesome pain in the throat… What are the odds?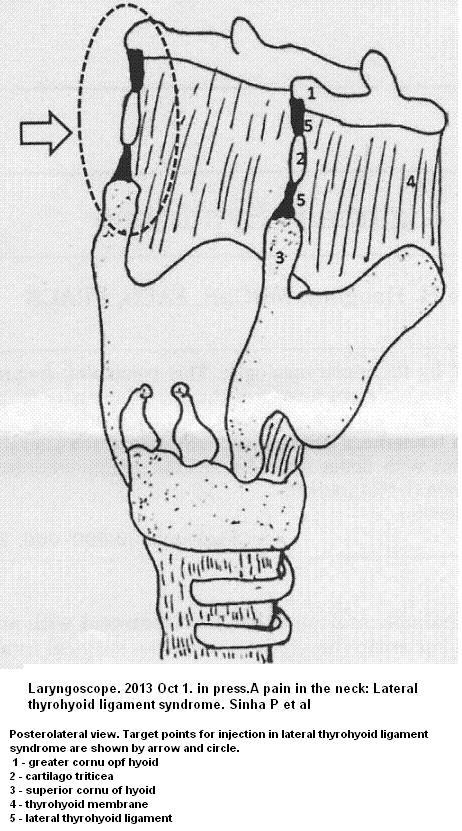 Laryngoscope. 2013 Oct 1. in press
A pain in the neck: Lateral thyrohyoid ligament syndrome.
Sinha P, Grindler DJ, Haughey BH.
http://www.ncbi.nlm.nih.gov/pubmed/24114651
19 cases
throat "neck" pain some lateralized anteriorly
1/2 had neck pain as well
1/3 foreign body sensation; no frank dysphagia though
9/17 had it for over a year
most had no precipitating factors though severe cough, excessive voice use, and strenuous overactivity rarely reported
8/17 smoked
Many cases had extensive negative workups; 4 had surgery
Most deliniating feature was "wincing and withdrawal on palpation" with maximal tenderness either at superior lateral Thyroid cartilage  or in ligament extending from there to hyoid.
no specific xray findings
2 ml kenalog 40 mixed with 1% lidocaine targetting point maximal tenderness
Results: – 78.6% improvement leading to long term symptomatic improvement in 7/16; recurrence occurred in 4 patients
no side effects except temporary worsening of diabetes in one subject due to steroid effect.
avoidance of strenous activity helped one case
Comment – my subject winced when upper lateral end of thryoid cartialge was palpated – much to my surprise. I injected 40 mg into sorest point but recognize might have to hit it again to get it all out.
An approach that wasn't considered was the use  of semi-neurolytic agents to numb area. There was a study about idiopathic superior laryngeal neuralgia where 5- 10% lidocaine was injected repeatedly with persistent relief:
Takahashi Sato, Kaoru, Masao Suzuki, Akiko Izuha, Shiho Hayashi, Tsuyoshi Isosu, and Masahiro Murakawa.
Two cases of idiopathic superior laryngeal neuralgia treated by superior laryngeal nerve block with a high concentration of lidocaine.
Journal of clinical anesthesia 19, no. 3 (2007): 237-238.
http://www.jcafulltextonline.com/article/S0952-8180(07)00032-3/abstract
" paroxysms of colic pain radiating from the right upper portion of the thyroid cartilage to the ear"
"She exhibited a trigger point on the upper portion of the thyroid cartilage. As the pain disappeared immediately by SLB [Superior Larnygeal Never Block]with two mL of 1% lidocaine, we diagnosed her pain as a result of SLN [Superior Larnygeal Neuralgia]… After 10 trials of SLB using one mL of 10% lidocaine within 12 days, the pain was alleviated without the need to continue block therapy. She remained asymptomatic for about one year after the last SLB." (another case did OK after 4 blocks of 5% lidocaine)
effort was made to avoid injected superior thryoid artery
My question would be it 40 mg kenalog did not do well, I would mix 40 mg kenalog with 5-10% lidocaine and inject that to improve results…
Addendum – I communicated with  Dr. Bruce Haughey who felt semi-neurolytic lidoacaine might induce a risk of a permanently insensate ipsilateral supraglottic larynx. He also advised "One can achieve long term  benefit from the depot steroid pretty reliably, as long as it is placed exactly at the trigger area on the thyroid cartilage,ligament, or hyoid.But this involves sliding the needle in right beside the carotid wall in some patients , so is not for the inexperienced or faint hearted…" Thank you Dr. Haughey
Getting back to the odds of me getting this article the very day this patient presented-  odds of me getting the article at just the right time to help this fellow was so low, I am left wondering if there was some divine intervention….