Putting pins below and above knee and then applying a traction device – for two months greatly relieves subsequent pain and allows cartilage regrowth. Most got some pin infection that required antibiotics at time.
Osteoarthritis Cartilage. 2013 Nov;21(11):1660-1667. doi:10.1016/j.joca.2013.08.006. Epub 2013 Aug 13.
Sustained clinical and structural benefit after joint distraction in thetreatment of severe knee osteoarthritis.
Wiegant K, van Roermund PM, Intema F, Cotofana S, Eckstein F, Mastbergen SC, Lafeber FP
http://www.ncbi.nlm.nih.gov/pubmed/23954704
Full knee 15year failure rates range from 7.6%:
Fifteen-Year to 19-Year Follow-Up of the Insall-Burstein-1 Total Knee Arthroplasty.  Ayesha R. Abdeen, , Stacy B. Collen, Kelly G. Vince. The Journal of Arthroplasty 25(2), February 2010, 173–178.
http://www.sciencedirect.com/science/article/pii/S0883540309000151to 18.3%
Survivorship Analysis at 15 Years of Cemented Press-Fit Condylar Total Knee Arthroplasty.  Fahad G. Attar,  Fu-Meng Khaw, Lorna M.G. Kirk,  P.J. Gregg. The Journal of Arthroplasty 23(3), April 2008, 344–349
http://www.sciencedirect.com/science/article/pii/S0883540307001283
Unicompartimental knee replacement was pegged at 7% failure in 15 yrs:
Clinical Orthopaedics and Related Research January 2013,471(1),102-108 Long-term Survivorship and Failure Modes of Unicompartmental Knee Arthroplasty. Jared R. H. Foran, Nicholas M. Brown, Craig J. Della Valle, Richard A. Berger, Jorge O. Galante.  http://link.springer.com/article/10.1007%2Fs11999-012-2517-y
Authors seemed surprised that replacements were considered for people under 65:
"It is remarkably that over 40% of all knee replacements and up to 44% of all total knee revisions are performed in patients the known problems of limited lifespan of TKRs , considering the known problems of limited lifespan of TKRs"
distraction was applied by pinning above and below knee and separating areas for 8 weeks in 20 younger cases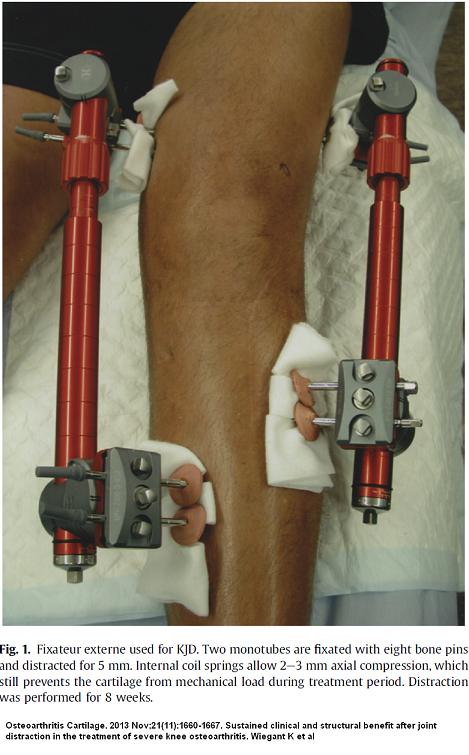 Results: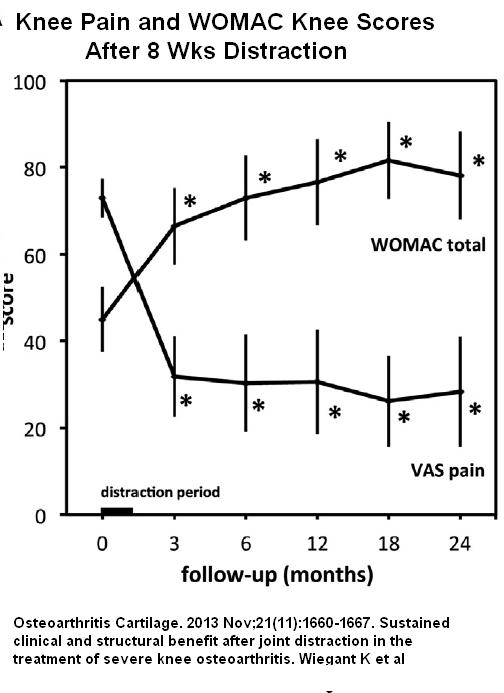 Evidence cartilage regrowth: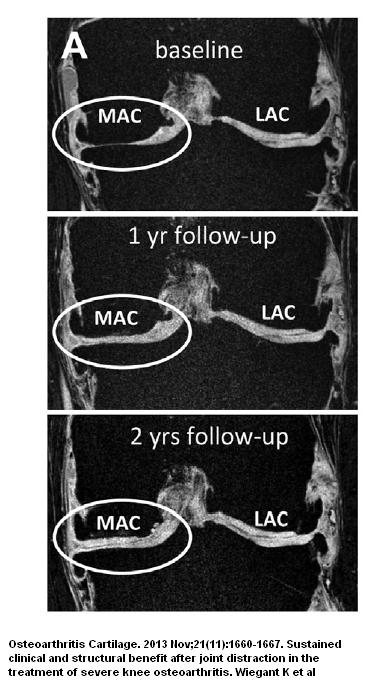 Complications:
17/20 got pin infections treated with Flucloxacillin
2 got pulmonary emboli
initial limited flexion
burdensome with 2 months of joint stiffness
Felt 2 months was a good investment in future…
A prior study found "arthoscopic medial compartment release" helped up to 4 years:
Arthroscopic medial release for medial compartment osteoarthritis of the knee THE RESULT OF A SINGLE SURGEON SERIES WITH A MINIMUM FOLLOW-UP OF FOUR YEARS
S.-R. Lyu
J Bone Joint Surg Br September 2008 vol. 90-B no. 9 1186-1192
http://www.bjj.boneandjoint.org.uk/content/90-B/9/1186.abstract
The outcome of arthroscopic medial release of 255 knees in 173 patients for varying grades of osteoarthritis involving the medial compartment is reported. All operations were performed by a single surgeon between January 2001 and May 2003. The Knee Society score for pain and the patient's subjective satisfaction were used for the outcome evaluation. Overall, satisfactory outcome was reported for 197 knees (77.3%) and the mean Knee Society score for pain improved from 17.6 (95% confidence interval, 16.7 to 18.5), pre-operatively to 39.4 (95% confidence interval, 37.9 to 41.1) (p < 0.001). There were minor manageable complications of persistent effusion in 16 knees and prolonged wound discomfort in 11. In total, 15 of the 21 knees with poor results were converted to total knee replacements and two other patients (three knees) were offered this option after a mean period of 16 months.
Based on these observations arthroscopic medial release is an effective treatment for osteoarthritis of the medial compartment of the knee joint and can be expected to reduce the pain in the majority of patients for at least four years post-operatively.
Comment – Probably not see it here for sometime and God help us in our MRSA prone hospitals. Came across one study that thought presence of the medial plica was cause of patellar and maybe medial OA. It appears tight  tissues  close packing the joint and makes things worse. sacsamainmichaelofficiel sacsamainmichaelofficiel