A Review of ergonomic studies was able to (?gleefully) trounce all studies as having inadequate design but could not ignore that an arm board could help office neck pain.
Occup Environ Med. 2010 Apr;67(4):277-85.
The effectiveness of physical and organisational ergonomic interventions on low back pain and neck pain: a systematic review.
Driessen MT, Proper KI, van Tulder MW, Anema JR, Bongers PM, van der Beek AJ. abstract here
"There was low quality evidence that a physical ergonomic intervention was significantly more effective for reducing neck pain intensity in the short term (ie, curved or flat seat pan chair) and the long term (ie, arm board) than no ergonomic intervention.
Have one lady who worked on moving big databases all day. She was thinking about retiring because of her neck and shoulder arm pains. What saved her was a movable arm rest support: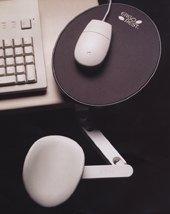 One can effortlessly move from mouse to keyboard.
There is a supplier in Saskatoon called Ergocanada. (I don't get any kickbacks…) Their url is:
This arm rest is listed  here
Where else can you get these? air max 95 air max 95