Some 6-11% of recurrent abdominal pains in children are protozoan infections. Those cases "did not show a characteristic presentation when compared with patients with other causes of abdominal pain" – so you can't tell by looking at them.
J Pediatr Gastroenterol Nutr. 2013 Jun 17. [Epub ahead of print]
Protozoa as a Cause of Recurrent Abdominal Pain in Children.
Gijsbers CF, Schweizer JJ, Büller HA.
http://www.ncbi.nlm.nih.gov/pubmed/23783023
220 cases – mean age of 8.8 –  in Netherlands
Results: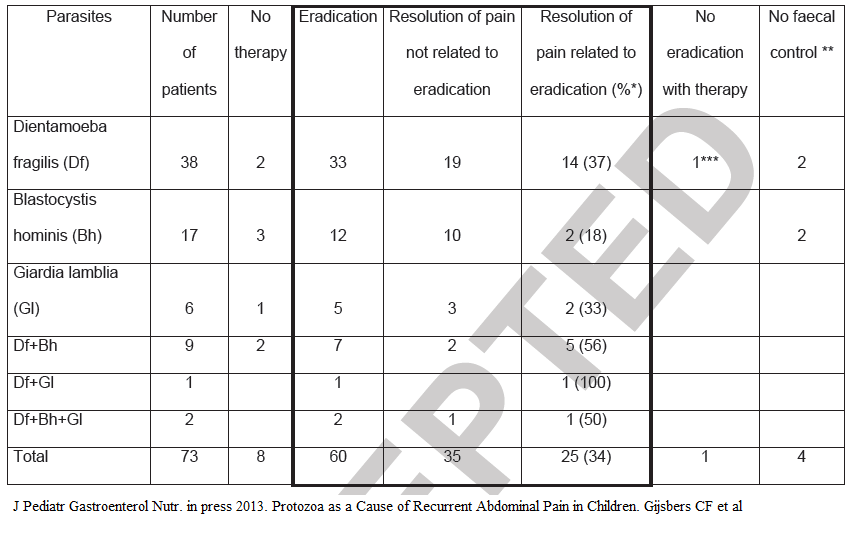 Looks like if you have 2 organisms much more likely to benefit
73/220 = 1/3 of cases found "colonized" – 1/3 of those responded to meds
25/220 = 11% had infection helped by meds
treatments included:
metronidazole 20 mg/kg/day for giardia and 30-50mg/kg/day for Df or BH – first line
otherwise tindazole two doses of 75 mg/kg 1 week apart
If Dientameba fragalis otherwise paromomycin 25-35 mg/kg/day for 7 days
for Blastocystis hominis otherwise co-trimoxazol 36 mg/kg/day
Comment – here, they accept one sample as adequate for determining protozoan infections. In study, they did 3 samples on separate days which makes more sense.