Technique involves injecting  ilioinguinal nerve  (by anterior superior iliac spine) – with dye and local – if get GOOD temporarly relief – then go in right after and remove all dye stained areas including ilioinguinal nerve.
In selected cases (good relief with block) 27/28 cases had pain for relief for at least the year of study.
Am J Surg. 2013 Jan 25. [Epub ahead of print]
Directed neurectomy for treatment of chronic postsurgical neuropathic pain.
Kline CM, Lucas CE, Ledgerwood AM.   abstract here
Technique:
1) inject local just medial and little down from anterior superior iliac spine: ("often 2 cm medial and 2 to 3 cm inferior to the respective anterior superior iliac spine")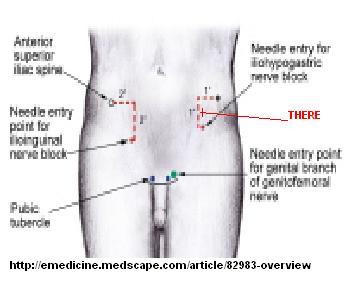 To make mixture use 1 mL of vital blue dye(methylene blue) added to 3 to 5 mL .5% bupivacaine.
Try to use only 1 ml of mixture (might need a nerve probe or get good referral zinger – I would  just use my pointer plus at 1.5).
Sedate patient ?midazolam 0.5 – 1 ml and ?ketamine 15-30 mg im deltoid
Only procede if get good block of pain – wait and see
2-3 cm incision
Remove the subcutaeous plug of tissue down to external oblique fascial layer where dye is
"The stained tissue that contained the nerve was found posterior to the external oblique fascia. All of this more posterior blue-stained tissue, which was below the subdermal fat, was excised (Fig. 3). The blue-stained tissue, which was removed typically, contained a small amount of deep subcutaneous fat and a portion of the external oblique fascia; there may have been a small
portion of the internal oblique muscle. The involved nerve was usually observed in the resected tissue. "
"The wound was closed with absorbable interrupted sutures"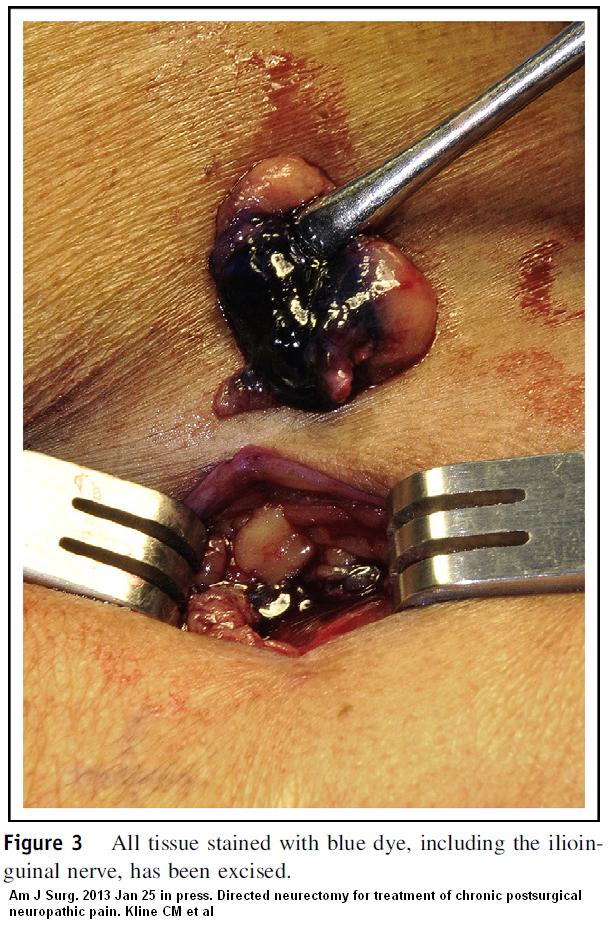 Comment – all hernia surgeons should have to learn this technique if they think they intend to do hernia surgery – they should have to fix their complications. From image obtained above, it may be more complex then one incision – above had two to get to extent of dye. Having said that, it does not look difficult at all.
For a methylene blue source, all I could easily find was Vista-Blue™ – Methylene Blue Solution – sterile vials used more in dentistry available at:
http://vista-dental.com/products/query.cfm?id2=Methylene
Could use more sources…
The authors come from Department of Surgery, Wayne State University, 4201 St Antoine, Suite 4V, Detroit, MI 48201, USA.  The corresponding author is Dr. Charles E. Lucas, M.D., Tel.: 11-313-745-3485; fax: 11-313-993-7729.
E-mail address: clucas@med.wayne.edu
Sorry about this Charles, but I think untreated desperate cases might need to contact him for advice – though if they failed to get any temporary relief from blocks elsewhere there would be no point …. Many anesthetists would try an ilioinguinal  alcohol block there first though I think surgery would be more definitive.