I got a question on what could be done for Glossopharyngeal neuralgia and came across this article on repeated bilateral intraoral glossopharyngeal nerve injections and amitriptyline as an alternative.
Case Rep Neurol. 2011 Jan-Apr; 3(1): 27–31.
Treatment of a Patient with Glossopharyngeal Neuralgia by the Anterior Tonsillar Pillar Method
Cemil Ahmet Isbir  free article here
65 year old with pain right ear area triggered with yawning, swallowing and cold food.
Should have had a sore throat spot anterior bottom of anterior tonsillar pillar.
Putting 10 lidocaine(the spray) on a swab and holding it at site should momentarily relieve pain.
Became unresonsive to carbemazepine 1200 mg/day
was started on amitriptyline 10 mg
New style glossopharyngeal nerve block was done BILATERALLY with 2 cc local and 20 mg depo-medrol.
Technique:
laryngoscope was used because it could sweep the tongue to opposite side.
Front tonsil pillar was visualized and base (bottom) end was injected "just lateral to the base of the anterior tonsillar pillar" at a depth of 0.5 cc usuing a 25 gauge needle –  author used a spinal needle but I bet a 2 " would work as well. There should be no blood on aspiration (close to carotids) and injection should offer no resistance.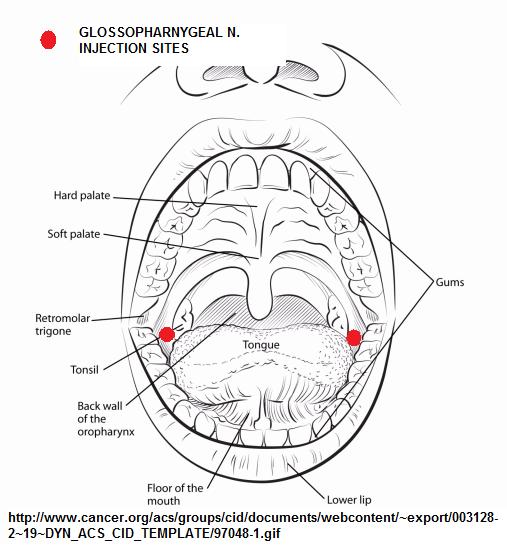 First day shots were done with steroid, then shots were done daily with 2 mls local each side. Sounds like block could have continued for 2 weeks daily.
Right sided sore throat began to resolve and by 1 month pain had dropped from 9/10 to 1-2/10
Comment: – Have tried block once for only one go and got temporary respite. Is easier to to then looks – no gagging. I have 2 questions though – why do blocks need to be bilateral and could topical local blocks be used instead? Will have to see if can get author to respond… canada goose femme canada goose femme