Morton' neuroma causes pain in the 3-4th metatarsal head areas with numbness in the corresponding 3rd and 4th toes. The pain, including burning pains in area can become extreme. Surgical removal works well 51-85% of time.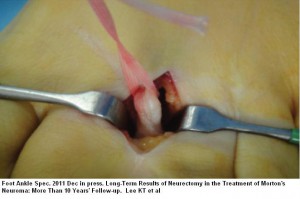 Foot Ankle Spec. 2011 Dec 1. [Epub ahead of print]
Long-Term Results of Neurectomy in the Treatment of Morton's Neuroma: More Than 10 Years' Follow-up.
Lee KT, Kim JB, Young KW, Park YU, Kim JS, Jegal H. abstract here
tenderness in the 3-4th  intermetatarsal space.
when squeezing pressure is applied to the intermetatarsal space, a painful and palpable clicking sensation is induced (Mulder's sign).
(if you are good, you can feel an enlargement where neuroma is)
Ovoid mass on ultrasound
failed NSAID's, metatarsal pads, shoe modification, and steroid injection for 6 months
Pain improved from 8.6 to 2.4/10
There have been 8 studies – followup 4-10 years – good results in 51- 85% of cases

(present study, of 13 cases, got 10 years satisfaction of 61%)
Side effect included some continued pain and unsettling numbness in 3rd and 4th toes.
Comment – Steroid or alcohol injections are alternatives but the former could thin fat pad under foot, and cause issues there, if injected too deep pandora pas cher pandora pas cher