Have a couple cases where cannot fully extend elbow and in considerable pain posteriorly on olecreanon rim. Attempts to exercise it to extension just cause pain. Loose bodies and spurs can cause trouble but are often not visible on xrays. This is called posterior olecranon impingement.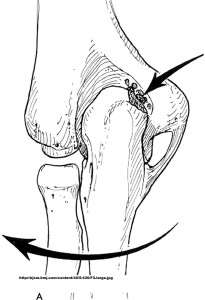 Brief discussion here:
Clinics in Sports Medicine
Volume 20, Issue 1, 1 January 2001, Pages 11-24
Arthroscopic Treatment of Posterior Impingement of the Elbow in Athletes
Michael J. Moskal   abstract here
Splints to restrict extension are helpful. I found several splints:
1) Hinged with adjustable straps to prevent extension:

A version of this can be got a Jolly's V&S in regina.
Also available from amazon here:
http://www.amazon.com/TENNIS-ELBOW-BRACE-MEDIO-LATERAL-SIDEBARS/dp/B00172K9PG
also a Easy-On Elbow Brace from a canadian supplier
here:
home page:
(http://www.ciobraces.com/mambo/index0c51.html?option=com_frontpage&Itemid=1)
Good results can be obtained from surgery:
Arthroscopy Volume 11, Issue 4 , Pages 437-443, August 1995
Arthroscopic treatment for posterior impingement in degenerative arthritis of the elbow
D.J. Ogilvie-Harris et al.   abstract here
"There were 10 good and 11 fair ratings preoperatively; this improved to 14 excellent and 7 good results postoperatively (P = .0001)"
Journal of Shoulder and Elbow Surgery Volume 18, Issue 2, March-April 2009, Pages 279-282
Arthroscopic treatment of posterior impingement of the elbow in athletes: A medium-term follow-up in sixteen cases
Frank Th. G. Rahusen MDa, , , Justus-Martijn Brinkman MDb and Denise Eygendaal MD, PhDc
abstract here
"Results The average flexion increased from 138° to 140°. The extension deficit of 8° preoperatively increased to a deficit of average 2° (P < 0.05). The MAESS increased from average preoperative to excellent postoperative (P < 0.05). The average VAS in rest decreased from 3 to 0 and during sporting activities the VAS decreased from 7 to 2 (P < 0.05)."
I would be interested in a lilst of orthopedeic surgeon doing satisfactory laporoscopic surgery for such.