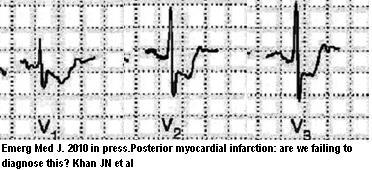 Only 38% of Doctors can diagnose a posterior MI (heart attack) because traditional leads do not pick it up. I have on occasion seen someone with vague chest pains but a previous history of heart disease. If ECG is normal and patient looks stable, it is easy to not consider this an acute condition.  That might be wrong.
Emerg Med J. 2010 Oct 20. [Epub ahead of print]
Posterior myocardial infarction: are we failing to diagnose this?
Khan JN, Chauhan A, Mozdiak E, Khan JM, Varma C.   abstract here
Acute MI's can be represented by ST-elevation myocardial infarction (STEMI)
New Left Bundle Branch Block can be one presentation.
Posterior wall infarction of left circumflex artery occurs in 3-7% of cases.
The ST depressions might be obvious to some but missed by others.
Use of posterior leads avoids this: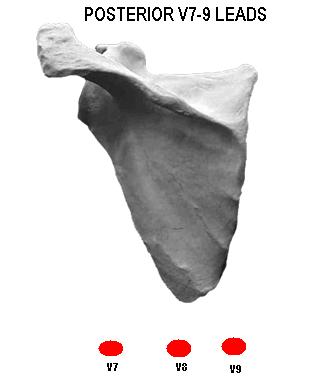 Then the MI looks more traditional: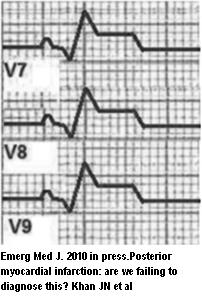 Same rib interspace with:(using leads V4-6)

V7 – left posterior axillary line,
V8  left midscapular line
V9  level with above at the left spinal border.

=/> 1 mm  ST elevation is positive.
Comment – will start doing this in suspect cases… airmaxszapatos airmaxszapatos