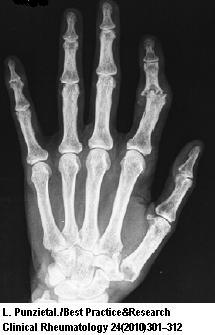 Hand Osteoarthritis with progressive deformities, pain and  erosions on xray is not your typical osteoarthritis. It is coined "inflammatory osteoarthritis" and can lead to  increased disability.  Drugs like IM methylprednisolone, Hydroxychloroquine, Infliximab, and  Anakinra all help.
Best Pract Res Clin Rheumatol. 2010 Jun;24(3):301-12.
Inflammatory osteoarthritis of the hand.
Punzi L, Frigato M, Frallonardo P, Ramonda R.  abstract here
50% of OA will show elevated Cytokines
Some OA hands will show some redness, warmth, and tenderness classic for inflammation – and with it morning stiffness < 30 min as well
finding erosive disease in imaging has categorized this group as inflammatory OA hands
may consist of 7% of OA in women 40-74 years old
onset is frequently abrupt
marked pain
frequent erythema, warmth and swelling
sideslipping "subluxations" of joints leading to instabilities, and fusing "ankylosis" may occur (vs rare in usual OA hand)
Throbbing Paresthesias (funny feelings) especially of fingertips, more often at night, sometime occurs and is distinctive to the form of arthritis
Multiple finger joints "polyarticular"
Distal and proximal finger joints especially 2nd and 3rd fingers often symmetric
accelerated progression
low grade elevations of ESR and CRP blood inflammatory markers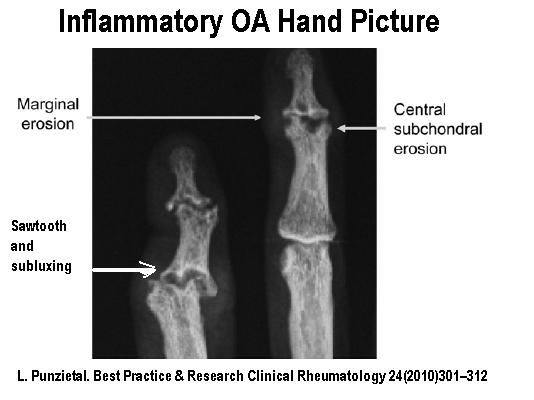 Subluxations, sawtooth and seagull joint appearances occur
Defining erosions on imaging has become an issue and various imaging has been tried to sort that out – positive bone scan and central erosions on US or MRI are classic
Treatment
designed to limit progression of disease
Hydroxychloroquine – 2 studies;

Byant – effective in 6/8 cases
Punzi – 7 cases HC vs 8 control – significant improvements in ESR, and OA scores at 6 and 12 month
Methylprednisolone 120 mg every 12 weeks with Hydroxychloroquine 200 mg/day in non-responders has been tried.
results: "Following intramuscular MP, 24 of 66 (36%) responders remained well to the end of the study period (48 weeks). A total of 42 of 66 (64%) responders relapsed (all within 24 weeks) and were treated with repeat intramuscular MP and HCQ. In all, 28 responders remained on HCQ long term and 24 of 28 (86%) reported a benefit."
Ann Rheum Dis. 2007 May; 66(5): 690–692.
Response to intramuscular methyl prednisolone in inflammatory hand pain: evidence for a targeted clinical, ultrasonographic and therapeutic approach
Zunaid Karim, Mark A Quinn, Richard J Wakefield, Andrew K Brown, Michael J Green, Elizabeth M A Hensor, Philip G Conaghan, and Paul Emery    free article here


Infliximab, and  Anakinra make a difference as well but are costly
Comment – It looks like Hydroxychloroquine 200 mg od, perhaps combined with IM methylprednisolone 120 mg IM q 12 weeks , might be useful in this disease. The other agents would probably be too expensive at this time.
I have done local injections using steroid and semi-neurolytic 5% lidocaine as a palliative measure with temporary relief.
Any comments? michael kors outlet michael kors outlet